Date: 22 August 2019
Author: By Tom Furlong
Comments: (0)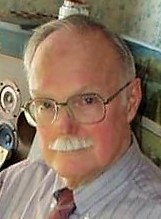 Wayne T. Dyrke, 83 of Galena, IL passed away Wednesday, August 21, 2019, at Midwest Medical Center, Galena. Funeral service will be 11 AM, Saturday, August 24, 2019, at the Furlong Funeral Chapel, Galena where friends may call after 9:30 AM until time of service. Burial will be in Greenwood Cemetery, Galena. Military honors will be accorded graveside by Galena VFW Post #2665 and American Legion Post #193. He was born March 29, 1936, in Calumet City, IL the son Theodore and Virginia (Shwedas) Dyrke. He was united in marriage to Jacqueline Milcarek on August 29, 1964, at St. Andrew's Church, Chicago. They moved to Westchester, IL where their two children, Lisa and Peter were born. Wayne's interest in creating art started at an early age and his mother encouraged him to attend the American Academy of Art in Chicago. He had a successful career as a commercial illustrator for over 40 years and also was widely known for his beautiful watercolor and acrylic fine art paintings. It was at his first job in the commercial art field that he met his wife, Jacqueline. Wayne served in the US Army twice and was stationed at Savanna Ordinance Deport as part of his second deployment which made him very familiar with Galena. The couple and their children moved into their hillside Galena home in 1990. He enjoyed the art community here and his time working at Eagle Ridge. Over his lifetime, Wayne enjoyed a variety of activities from parachute jumping, racing cars, sailing, collecting model trains, cooking and making wine. He is survived by his wife, Jacqueline, his daughter, Lisa (Terry) Prindle, his son, Peter (Donata) Dyrke, and his 'furry' children and beloved cats, Mona, Ruffles and Socks, his sister, Vanessa Nesbit, and nephews James (Susan) Owen, and their children Brandon, Emily and Tim (Diana) Owen, their children Christopher and Alyssa. Wayne was preceded in death by his parents and a brother-in-law, Milton Nesbit. Please donate to your favorite charity in lieu of flowers.