Date: 06 December 2018
Author: By Tom Furlong
Comments: (0)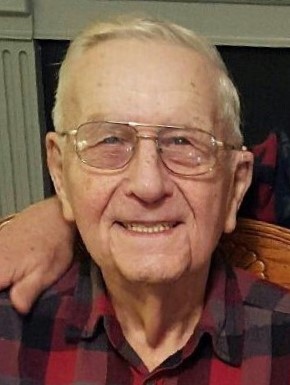 James E. Laity, 91 of Scales Mound, IL passed away peacefully with his family at his side on Wednesday, December 5, 2018 at Bell Tower, East Dubuque, IL. Funeral service will be at 11 AM, Monday, December 10, 2018 at the United Methodist Church of Scales Mound and where friends may call after 10 AM until the time of service. Friends may call from 2 to 5 PM, Sunday, December 9, 2018 at the United Methodist Church of Scales Mound. Burial will be in Township Cemetery, Scales Mound. A Masonic tribute will be held graveside. The Furlong Funeral Chapel, Galena is in charge of arrangements. He was born on February 24, 1927, in Scales Mound the son of Clifford and Myrtle (Eversoll) Laity. Jim attended Mount Pleasant Grade School and graduated from Scales Mound High School. He was united in marriage to Dorothy Bastian on April 24, 1945 at Scales Mound United Methodist Church and she preceded him in death on May 12, 1987. He worked as a section laborer, telegraph operator and station agent for Illinois Central Railroad for forty years until his retirement in 1986. Jim was very active as a member of Scales Mound Village Board, Scales Mound Township Board of Trustees, Scales Mound Town Hall Committee, Scales Mound Fire Department, Galena Golf Club, Apple River Masonic Lodge #859 and the Galena Masonic Lodge #273. He served as chairman of the Scales Mound Boy Scout Committee. Jim was a lifelong member of the Scales Mound United Methodist Church. He published and mailed the "Weekly Visitor" in the village of Scales Mound for seventeen years. In April of 1957, he was elected to a four year term as a Justice of the Peace for the town of Scales Mound. He enjoyed a good game of euchre and was a basketball enthusiast. Jim spent as much time as possible watching his sons play sports and later in life his grandchildren. He was lucky enough to watch his son Dick coach at Lena-Winslow High School for eighteen years and to accompany his son and his team to the state tournament twice over that span. Jim was eventually inducted into the Illinois Basketball Coaches Hall of Fame as a "Friend of Basketball". He was an avid Chicago sports fan, but lived and died with every Cubs game. In 1945, Jim attended the World Series between the Chicago Cubs and Detroit Tigers at Wrigley Field. He is survived by two sons, Dan (Cindy) and Bill (Diann) Laity both of Galena, six grandchildren, Natasha (Mark) Snyder, Heather (Andy) Flynn, Justin (Jane) Laity, Jonathan (Amanda) Laity, Doug (Jen) Laity and Ryne Sandberg Laity, six great-grandchildren, one sister, Fern Moyer of Galena, a sister-in-law, Joan Page, two daughters-in-law, Lois and Deb Laity and many nieces and nephews. He was preceded in death by his parents, his wife, a son, Richard "Dick" Laity, a brother, Keith Laity and a brother-in-law, Art Moyer. In lieu of flowers the family requests donations be made to the Scales Mound Recreation Association or the Scales Mound Booster Club in memory of Jim. The family wishes to thank the staff at Midwest Medical Center, Bell Tower and Dr. Vandigo and staff for their care and compassion shown to Jim during this difficult time.