Date: 30 August 2019
Author: By Tom Furlong
Comments: (0)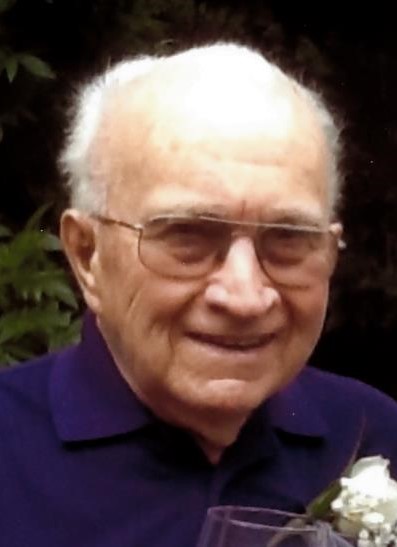 Robert B.  "Bob" Gradl, 98, of Galena, IL an extraordinary ordinary man passed from this world August 27, 2019. In keeping with his wishes cremation rites will be accorded and no public services will be held. The Furlong Funeral Chapel, Galena is assisting the family. He was born February 20, 1921, in Chicago the son of Otto B and Margaret (McNicholas) Gradl. Growing up on the Southside of Chicago he attended St. Catherine's Grammar School and graduated from Fenger High School in 1939. At the outbreak of WW II, he joined the United States Army and served as a flight instructor for the B29 in the Army Air Forces advancing to the rank of 1st Lieutenant. After, several years instructing new pilots for overseas duty he received his orders to go. Bob was assigned a crew and was on his way to report for overseas duty only to be ordered back because the war had ended. He still had many stories of his adventures in the Army Air Forces to entertain his family and friends in his later years. After being discharged he married the love of his life Shirley M. Brown also of Chicago on June 29, 1946. They had three children together and moved to Dolton, IL. Bob retired from Illinois Bell Telephone in 1984 after which he and Shirley bought a little travel trailer and headed to Florida for many winters together. Their travels were not limited to Florida though. Together they visited every state in the union. On their travels, they made many wonderful friends throughout the United States and Canada. In 1994, Bob moved his wife to the beautiful city of Galena where he was the happiest ever. He loved to golf, bowl, play pinochle, work in his yard and drive around the countryside with his bride visiting the many supper clubs the area has to offer. He leaves behind his wife of seventy-three years, Shirley, three children, Bonnie (John) Swedler of Galena, Dan (Joyce) Gradl of Carmel, IN and Valerie Williams of Homewood, IL, seven wonderful grandchildren, John (Lisa) and Steven (Tori) Swedler both of Peoria, AZ, Dan (Shanna) Gradl II of Fishers, IN, Matthew (Stephanie) Tracy of Santa Maria, CA, John (Andrea) Williams, Bob G. Williams and Mary Williams all of Homewood, IL and eleven great-grandchildren. The family would like to thank Dr. Crist and all the staff at Medical Associates, Galena for their wonderful care, kindness and compassion over these last years. He actually looked forward to his visits because of all of you. The last month of his life was spent at Prairie Ridge, Galena where everyone showed him much kindness and comfort. We want to also include the Wednesday breakfast group at the Desoto House (you know who you all are) he loved being part of the "guys" getting the latest scoop and comradery. You made him feel special. Our family will forever be grateful to you all.