Date: 04 September 2019
Author: By Tom Furlong
Comments: (0)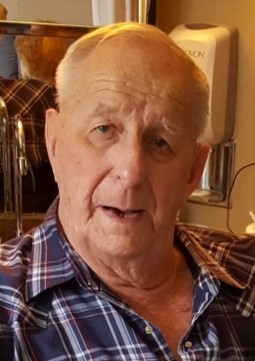 Lester J. Deininger, 89, of Galena, IL passed away Wednesday, September 4, 2019, at Galena Stauss Senior Care Community. Friends may call from 9 to 11:30 AM, Saturday, September 7, 2019, at the Furlong Funeral Chapel, Galena. Burial will be in Greenwood Cemetery, Galena. He was born August 14, 1930, in Galena the son of Willis and Alma (Bardell) Deininger. Les attended and graduated from Galena schools. He served in the US Army from 1950 to 1952 serving in the Korean Conflict with the 3rd Armored Calvary, Strausburg, Germany. Les was united in marriage on August 25, 1951 to his wife of sixty-eight years, Lola Jane Montgomery at St Matthew's Lutheran Church, Dubuque IA. He was the manager of the Farmer's Exchange, Galena for forty years. He enjoyed fishing, hunting, morel hunting and rattlesnake hunting over the years. After retirement, he enjoyed his many day trips with his wife. Les was a member of Galena VFW Post #2665 and BPOE Elks Lodge #882 of Galena. He is survived by his wife, Lola, one son, Terry (Rosie) Deininger, three daughters, Debbie (Don) Lee, Kathy (Bill) Wienen and Sheila (Jerry) Johnson, a daughter-in-law, Donna Deininger, grandchildren, Michael (Linda Parisi) Deininger, Brandon (Val) Deininger; Heather (Tom) Reppen; April (Mark) Pertzborn; Tina (Justin) Stair; Terry (Jenny) Deininger Jr; Clint (Candice) Wienen; Carrie (Scott) Temperly; Justin (Alex Beck) Johnson; Jenna (Lucas) Trevarthen, seventeen great-grandchildren, with one more on the way, two brothers, Dick (Alys) and Chuck (Nancy) Deininger, two sisters, Rose (Bob) Harkness and Marilyn (Kenny) Flack, two sisters in-law, Faud Deininger and Rita Montgomery, two brothers-in-law, Lyle (Patty) and Lee Montgomery. He was preceded in death by his parents, a son, Steve Deininger; a granddaughter, Amanda Deininger, a brother, Bill Deininger, and sister, Carolyn Deininger, two brothers-in-law, Alfred and Errol Montgomery, two nephews, Paul Deininger and Mike Montgomery and great nephew, Chad Bautsch. The family wishes to extend a special thank you to, Galena Stauss Senior Care Community Staff and Dr. Matt Gullone for all your care and compassion over the years. In lieu of flowers donations maybe made to the American Cancer Society in memory of Lester.