Date: 22 January 2021
Author: By Tom Furlong
Comments: (0)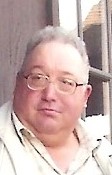 Leonard F. "Lenny" Norman Jr., 74 of Galena, IL passed away Thursday, January 21, 2021, at Unity Point Finley Hospital, Dubuque. Due to Current COVID-19 restrictions, a private funeral mass will be held Saturday, February 13, 2021, at St. Mary's Catholic Church, Galena and burial will be in the church cemetery. The Furlong Funeral Chapel, Galena is assisting the family. He was born October 12, 1946, in Davenport, IA the son of Dr. Leonard F. and Maleta C. (Schonhoff) Norman.  Lenny attended St. Mary's Catholic School & Galena High School. He was employed for many years with The City of Galena, retiring and referring to it as his favorite job. Lenny enjoyed being outdoors, cutting wood, hunting for morels, and working in his garage repairing small engines. He loved taking his once-a-year vacation out West and visiting with his nephews and nieces. Lenny is survived by his siblings, Marcia (John) Reifsteck of Naperville, IL, Ronald (Jeanie) Norman of Galena, and Steve (Angela) Norman of Verona, WI, nephews, Tim (Sara) Reifsteck of Naperville, IL, Kevin (Tabitha) Reifsteck of Yorkville, IL, Bryan (Jamie Burfield) Reifsteck of Plainfield, IL, Nathan (Nachelle) Norman of Princeton, IL, Jason Norman of Laguna Niguel, CA, and Braden (Lauren) Norman of Galena, IL, and nieces, Erica and Caroline Norman of Verona, WI, great-nephews: Breven, Blake, Cole and Austin Reifsteck, Miles, Kenten and Maverick Norman, great-nieces, Aurora and Makenzie Reifsteck, Myla, Gracie, Alivia and Norah Norman, great-great nephew, Makoa Dunn, two aunts, Rosalyn Schonhoff and Hylene Anderson. He was preceded in death, by his parents, two aunts, Joan Norman and Annella Dayton, four uncles, Orville Norman, John Dayton, Lee Anderson and Urban Schonhoff, and a great nephew, Brenten Norman.