Date: 21 December 2020
Author: By Tom Furlong
Comments: (0)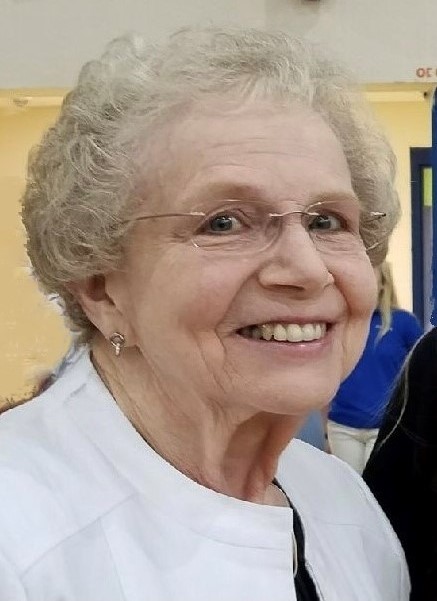 Doris Marie Hasken, 83, of East Dubuque, IL, passed away on Saturday afternoon, December 19, 2020, at Saint Luke's Hospital, in Cedar Rapids, IA. Due to current COVID-19 restrictions, a private family mass will be held Saturday, December 26, 2020, at St. Mary's Catholic Church, East Dubuque. Burial will be in the East Dubuque Cemetery. A celebration of her life will be held later when it is safer to gather. The Furlong Funeral Chapel, Galena is assisting the family. She was born August 5, 1937, the daughter of Elmer and Lorena Tranel. She grew up on a farm in Menominee, IL with her four siblings. After attending the local catholic grade school, Doris continued her education at Immaculate Conception High School in Dubuque. Shortly after graduating, she married her true love, Earl Hasken, on June 7, 1958, at Nativity BVM Church in Menominee. They chose to build what became their lifelong home on Fruit Hill in East Dubuque where they raised seven children. Doris was a member of St. Mary's Parish and dedicated a large amount of her free time to this community. For many years, she was considered the #1 volunteer at both St. Mary's School and the Church. She was an officer of the Home and School board and spent many years in the Altar and Rosary Society. Her passion for woodwork extended to numerous refinishing projects she completed for the church and its altar and sacristy. Once the younger children began grade school, Doris started to work at St. Dominic's Villa in Dubuque and later at Sinsinawa Mound. Among her favorite positions, she served as the activities director and interacted with the nuns on a daily basis. She created many memorable friendships with the nuns and never really considered it a job. She reluctantly retired from her day-to-day responsibilities at the age of 79. Her hobbies included sewing, crafts, collecting antiques, and refurbishing furniture that now resides in many of her children and grandchildren's homes. Each summer, she and Earl would take their children camping in different parts of the country. Later, they would continue the tradition with a handful of grandchildren on each trip. In her later years, Doris enjoyed spending time visiting retirement homes and making new friends along the way. She also cherished starting each morning with mass followed by a cup of coffee with several friends. Surviving are her seven (7) children, Juliane Rossman, of Dubuque, IA, Allen (Ria) Hasken, of Miamisburg, OH, Janel (David) Cebulko, of Bartlett, IL, Lloyd (Faith) Hasken, of Elgin, IL, Beth (Joe) Broderick, of Dubuque, IA, Glenn (Tina) Hasken, of Dubuque, IA, and Martha (Kevin) Grossman, of Dayton, MN; twenty-four (24) grandchildren, Nick (Sophie) Rossman, Amanda (Jeremy) Way, Megan (Zach) Hardy, Abby Rossman, Alysha (Brian) Kroeger, Brian and Adam Hasken, Alison (Jonathan) Schueman, Hilary (Brandon) Lakes, Heather Cebulko, Sarah (Jimmy) Patlyek, Nathan and Grace Hasken, Molly (Chris) Conley, Marty, Danny and Clare Broderick, Danielle (Brit) Bastow, Riley and Bailey Hasken, and Maggie, Ellie, Sophie, and Henry Grossman; sixteen (16) great-grandchildren; her siblings, Merla Carl, Arletta Fransen, Lavonne (Cletus) Kaiser; her in-laws, Sharon Tranel, Lou Mae Hasken, Roger Gartner, and Roseann Nauman. She was preceded in death by her husband, Earl Hasken; her parents Elmer and Lorena Tranel; her brother, Cletus Tranel; her in-laws Glen Carl, Joe Fransen, Vincent Hasken, Donald and Betty Hasken, Harlan Nauman and Darlene Gartner; son-in-law Dave Rossman; grandsons, Allen Hasken, Jr., Joel Hasken and Shane Broderick; and great-grandchild, Irene Rossman. The family would like to send a "special thanks" to the many neighbors and friends who helped Doris after Earl's death. The family requests "no" flowers.  A Doris Hasken Memorial has been established.