Date: 29 October 2018
Author: By Tom Furlong
Comments: (0)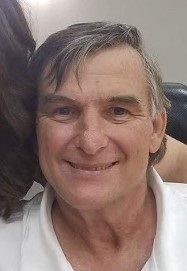 My name is Alan Joseph Bussan, 59 years old of Galena, IL and I won my battle with cancer on Saturday, October 27, 2018 I'm in heaven now with my God. A Celebration of my Life will be held at 6 PM, Thursday, November 8, 2018 at Crossroads Community Church, Galena, where friends may gather after 4 PM until time of service. Burial will be held at a later date. Cremation rites have been accorded. The Furlong Funeral Chapel, Galena and Crossroads Community Church are assisting Lori and Ethaniel. I was born January 3, 1959, on a cold and snowy day in Dubuque, IA to Louis and Viola (Renk) Bussan. I spent my entire life on the family farm and had an amazing childhood. On our farm, we grew crops and raised cows, pigs, chickens, dogs, cats, horses and donkeys. I loved riding my mini bike all over the farm and fishing in the Sinsinawa River. I loved to help my dad on the farm. I hated school and wanted to quit, but my Mom and Dad wouldn't let me quit! I learned early in my life if someone told me I couldn't do it I worked twice as hard to prove them wrong. I also enjoyed being my own boss and in 1984 I taught myself how to drive a semi-truck and had my own trucking company for thirty-two years. I loved farming, it was in my blood and my parents worked hard to hold onto what they had and that work ethic was also in my blood. I met the love of my life Lori Guzzle on a blind date twenty-seven years, four months and sixteen days ago. We married on January 17, 2002, in Las Vegas, NV and have been married for sixteen years. All of those years, even though I didn't show it often enough, I still love her dearly. Lori is an amazing wife and mother. I would have been unable to own and operate a Trucking Company and farm without her.  We had our great, good, bad and ugly days, but they just made us stronger. I have an amazingly awesome, handsome seven-year-old son who is the light of my life. Ethaniel Louis Bussan, you will always be my "Baby Boy" no matter how old you get. I didn't want to have kids, but when we found out Lori was pregnant, I found myself changing and as I watched him come into this world, my heart was full and I finally knew what it meant to have unconditional Love. My path for him is simple; to be Godly, loving, kind, honest, and a compassionate young man. I want him to love learning and to be successful in whatever makes him happy. His mom and I have wishes and dreams for him; love God, love even though it will be hard sometimes, be loved for who you are through your faults and most of all, fight for what you believe in. As long as you are happy and loved, you are successful. Lori and Ethaniel would like to thank Hospice of Dubuque especially Shirley, Nancy, Ryan and Amy, and Pastor Bill Longmore and his family and our Church family for their prayers, thoughts, kindness, hugs and well wishes it will never be forgotten. You will always be in our hearts. In lieu of flowers, donations may be made to Hospice of Dubuque or Crossroads Community Church to plant trees in memory of Alan's family.