Date: 14 February 2017
Author: By Tom Furlong
Comments: (0)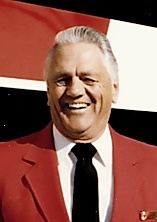 Lewis G. "Lew" Hillard, 90 of Galena, IL passed away Sunday, February 12, 2017 surrounded by his loving family at Galena Stauss Senior Care Community. In keeping with his wishes there will be no public services at this time. The Furlong Funeral Chapel is assisting the family. He was born August 7, 1926 in East Dubuque, IL the son of Leo and Angeline (Pregler) Hillard. Lew enlisted in the United States Navy serving aboard the USS Hobson during WW II from 1944 until his honorable discharge in 1946. He was united in marriage to Elva Iverson on October 18, 1951 in Chicago. Together Lew and his brother Jim were the founders and co-owners of Tri-State Travel, Galena. He was a board member for the First National Bank of Galena. Lew was very involved in the community and was instrumental in the building of the Galena High School tennis courts, Alice T. Virtue Pool and the expansion of the Galena Golf Course from 9 to 18 holes. He enjoyed boating, traveling and golfing. He is survived by his wife, Elva, his son, Rick (Pam) Hillard of East Dubuque, three grandchildren, Angela (Doug) Decker of Cedar Rapids, IA, Ryan (Ainsley Hudson) Hillard of Denver, CO and Addam (Jeni Hunnicutt) Hillard of Columbus Junction, IA, two step-grandchildren, Rebecca Diercks of East Dubuque and Matthew (Mandy) Diercks of Kieler, WI, three great-grandchildren, Drew Distler, Luke Decker and Katelyn Maldonado, two step-great-grandchildren, Franklin and Elliette Diercks, one brother, Leo Hillard of Venice, FL and many nieces and nephews. He was preceded in death by his parents, two brothers, Ralph and Jim. Memorials may be given in Lew's name to the Galena Stauss Senior Care Community or Hospice of Dubuque.